A new Morning Consult/Politico survey taken after the Republican health-care bill was pulled shows voters souring on President Donald Trump's job performance.
Forty-six percent of registered voters said they approved of Trump's performance in office, down four points from the previous week. Trump's disapproval rating rose to 50%, up six points from the past survey. It's the first time more voters have disapproved of Trump's performance since Morning Consult began tracking his job approval. The survey polled 1,991 registered voters March 24-25 and has a margin of error of plus or minus two percentage points.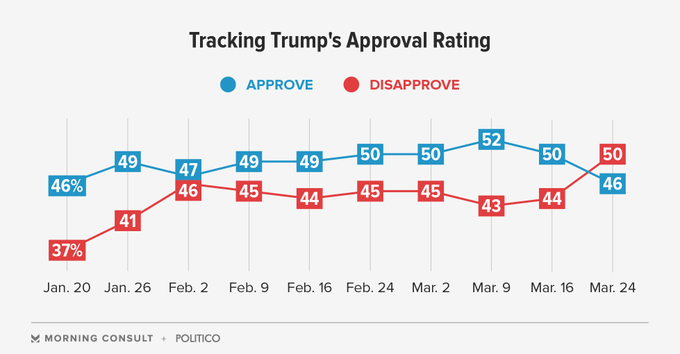 Health talks quietly restart: Meanwhile, the White House and House Republicans have quietly begun new talks on repealing Obamacare, the New York Times writes. Trump's chief strategist Stephen Bannon has been meeting with members of two Republican factions that sank the bill last week, the Freedom Caucus and the Tuesday Group. Trump told senators at a White House reception Tuesday night that "we are all going to make a deal on health care."
But Republicans aren't eager to put a time frame on a new bill. "This is too important not to get right," House Speaker Paul Ryan said Tuesday.
Obstacles to tax reform: President Trump and congressional Republicans have said they want to pivot to tax reform after the failure of the GOP health-care bill. But there are obstacles to a big tax deal, and the New York Times lays out five: a leadership vacuum; deficits and debt; the border-tax showdown; the winners-and-losers effect; and arcane procedural rules. To take just the first point, the greatest hurdle may be the White House itself. Trump hasn't yet made basic decisions about the structure and scope of his plan or the strategy for pushing it through Congress.
Trump tax-return bill shot down: Trump's own taxes continue to be an object of concern to some members of Congress — but not enough to force their release. Reuters reports the House Ways and Means Committee rejected a bid by Democrats on Tuesday to obtain Trump's tax returns, despite warnings that the president's business holdings could pose conflicts of interest as Congress turns to a tax overhaul. The committee voted along party lines to oppose Democrats' resolution that sought the release of 10 years of Trump's tax returns to the House of Representatives.
Source: marketwatch.com